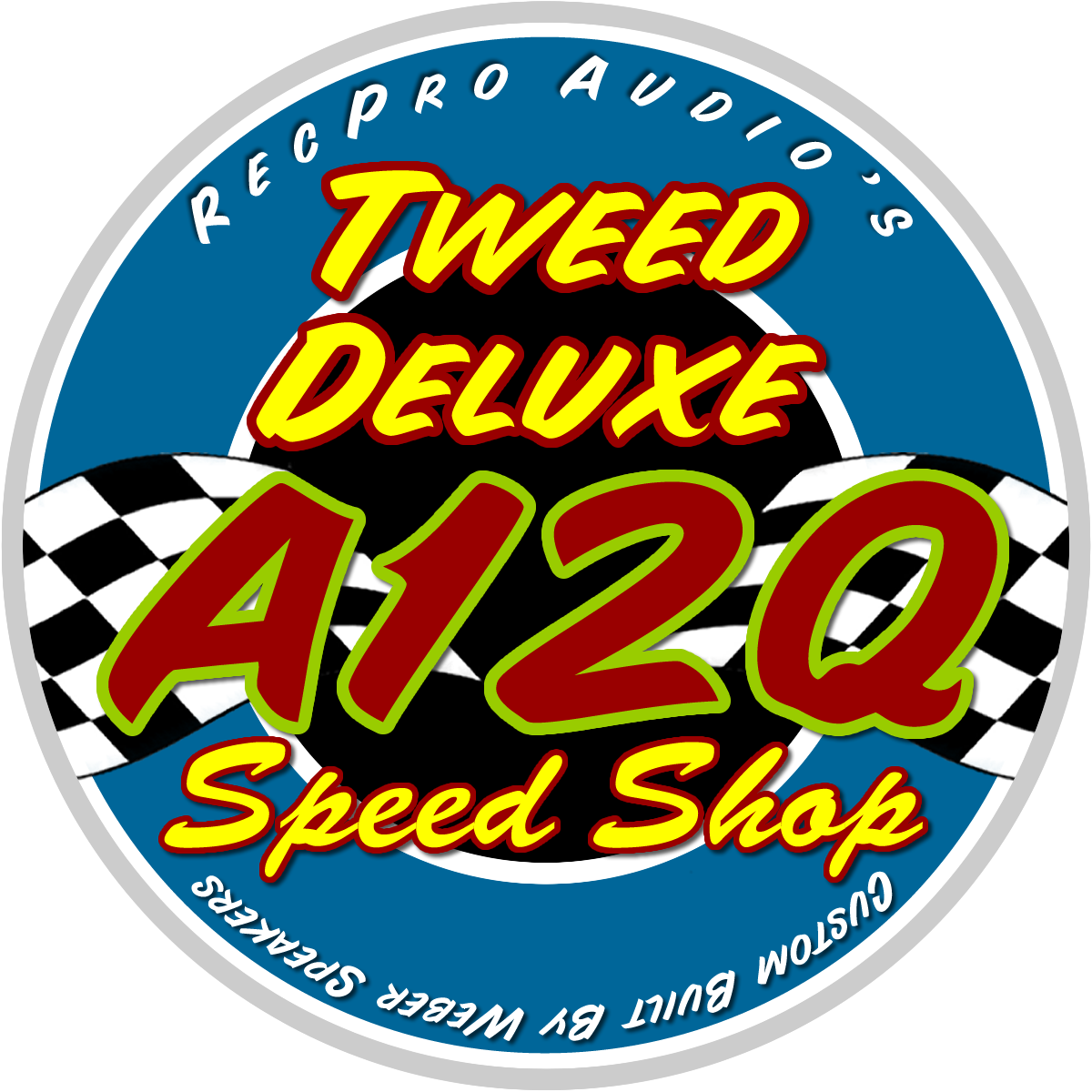 In my opinion, the perfect speaker match for a Tweed Deluxe is a vintage Jensen P12Q Alnico speaker.
However, these speakers are very troublesome for they are somewhat rare and often found in various stages of disrepair. Cone cry, voice coil rubs, rattles, warped spiders and bent frames are all too common; as are also torn, dry rotted or otherwise very weak cones that can distort the voice coil and cause audible artifacts at various frequencies. Moreover, many old Jensens exhibit a high midrange bump in response that can be hard to deal with under certain operating conditions.
That said, there is nothing like a *good* vintage P12Q. From compressed cleans to heavy overdrive, these speakers cover all the bases with a frequency response that is complex, round, tight in the low end with a mid-centric boost, and clear, sweet highs - a great match for the 5E3 circuit.
The simplest way I can explain it is that, with a good P12Q you just don't want to stop playing because what you're getting back from the amp is so intoxicating that it continually leads you on and on into new musical discoveries and tonal landscapes, no matter the guitar or gain setting.
Again, due to the difficulties with vintage Jensens mentioned above, the Speed Shop has always been on the lookout for the perfect new production speaker that can rival the best of the original P12Qs.
After searching for months and months, auditioning speaker after speaker, the best candidates have been from Weber Speakers; which has led to a further joint development between Weber and the Speed Shop for an exclusive P12Q variant that delivers the particular characteristics I have been seeking.
As such, the Speed Shop is very excited to announce the release of its A12Q Tweed Deluxe guitar amplifier speaker.
Designed after the original P12Q speakers from 1958 to 1960, the RecPro Audio Tweed Deluxe Speed Shop A12Q captures the true vintage Jensen sound and performance from the era, but without all the hassles and risks associated with vintage speakers.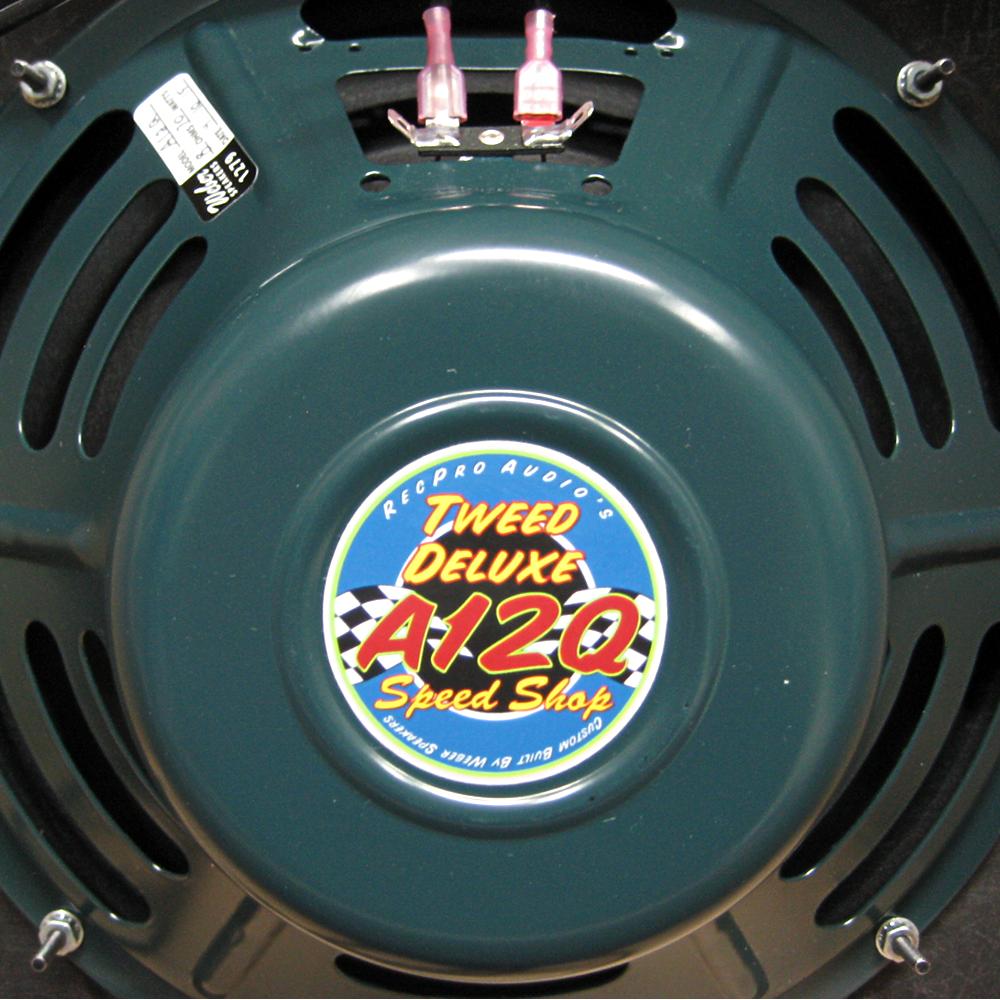 Clean or overdriven, the A12Q's response is full, tight and midrange-centric with full high-frequency response but without the peaky high-edge of vintage Jensens; and excels with both single coils and humbuckers.
Custom built for the Speed Shop by Weber Speakers, the A12Q delivers true vintage complexity, frequency response, compression, breakup and sensitivity.
Lots of effort went into putting this guitar speaker together, and the guys @ Ted Weber: TA, Brian and CJ, did a truly wonderful job. Very special thanks to Jon Van Rhee and Dean Wiant @ Precision! Also, Steve @ MWA and Eric @ OCS. Again, many thanks to all for making this new speaker possible!
STATUS 10/09/2015: The A12Q speaker sounds great! After about 50 hours of break-in, I then began to compare it against a great 1960 Jensen P12Q - just this week - and it's really, really close. So close, that I might not be able to pick it out blindfolded. I would have to say that it's got 95%+ of the "fingerprint" of the original P12Q - and that really surprised me as I wasn't sure if a new speaker could sound like a 55 year-old speaker. But, it's got all the classic hallmarks - frequency response, sensitivity, compression, break up, and most importantly, complexity. From single coils to humbuckers, the response is truly vintage. Thanks again, to everyone involved in the project!
Order Information: A12Q orders will begin to be accepted via PayPal on this page, on November 1, 2015. Pricing is $130 each ($125, plus PayPal fees). Shipping is a flat $20 to the Continental US. Overseas customers, please contact me for shipping prices.
Thanks for your interest,

The A12Q is a 12", 20 watt, 8 ohm, Alnico speaker; custom built for the Speed Shop in the USA by Weber Speakers, and is exclusively available through the Tweed Deluxe Speed Shop.